I can't wait to go to Tokyo!
Salah satu tempat yang pengen banget gue datengin adalah...
Puroland!
Theme park kayak Disneyland, tapi yang ini versi Sanrio. Yup, we will meet everyone from
Hello

Kitty, Kero Keroppi,

to

Bad Badtz-Maru!
Puroland ini nggak di dalam Tokyo sih, kita harus naik kereta selama sekitar 30 menit. Attractionsnya ada Marchen Theatre, Entertainment Hall, sampai Kitty House :p Tadi Googling, ketemu
Sparklette
, dan lihat foto-foto ini... :)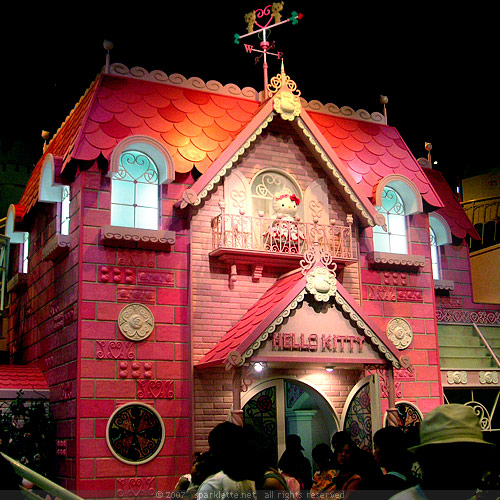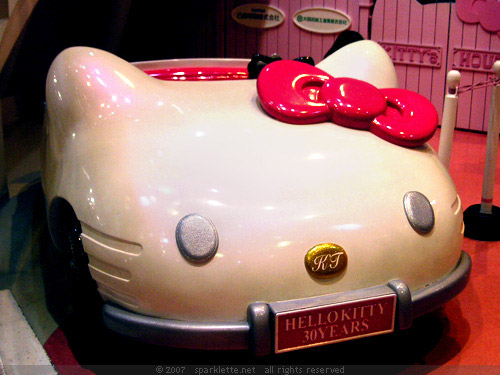 Ternyata, Shintaro Tsuji (foundernya Sanrio) juga kehilangan ibunya waktu masih kecil. :( Dulu dia sekolah di TK milik orang Kanada, di mana dia jadi tau tentang perayaan ulangtahun. Akhirnya, Sanrio pun dibuat supaya orang Jepang mulai mengenal "gift-giving". Hello Kitty pun akhirnya lahir, tanpa mulut. Why? Karena Hello Kitty
berbicara dari hati
, sebagai duta Sanrio untuk dunia dan nggak perlu terhambat bahasa! Hmmm, I like the philosophy.
Sekarang, Hello Kitty muncul sebagai ikon kepolosan anak-anak dan kesederhanaan dunia. Dia punya 'label' masa kecil yang menyenangkan dan penuh rasa percaya, yang akhirnya ngasih influence ke siapapun yang ngefans sama Hello Kitty sejak mereka kecil, untuk tetap stick sama karakter ini demi mengingat "masa kecil yang menyenangkan". Hehehe... Mungkin karena itu ya gue pun jadi kepengen banget ketemu dia di Puroland? Hello Kitty sedikit banyak nemenin hari-hari tanpa Mama waktu gue kecil, and I have to meet this Kitty in person!! :D She helped a lot!!
Yang lebih inspiring lagi, Hello Kitty juga jadi
UNICEF Special Friend of Children
. Di ulangtahun yang ke-30 tahun 2004 lalu,
Hello Kitty menyumbangkan $150,000 ke UNICEF untuk mendukung pendidikan untuk anak perempuan
. Kenapa cuma untuk anak perempuan? Karena
jumlah anak perempuan di dunia yang nggak sekolah 10 juta orang lebih banyak dibanding anak laki-laki!
Go, Kitty!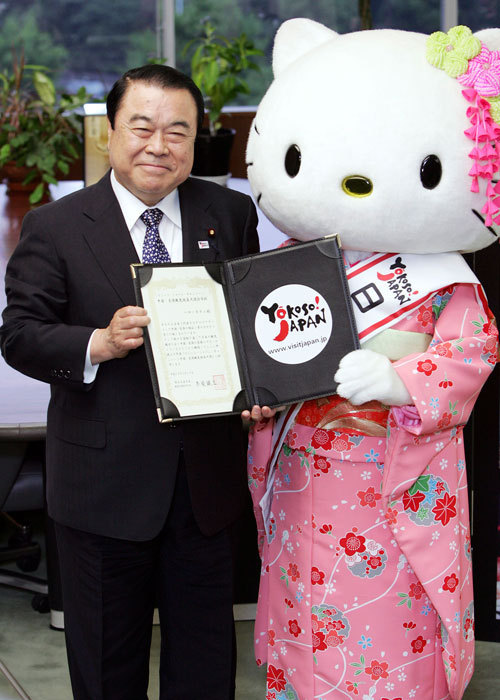 Tahun lalu, Hello Kitty juga "diangkat" jadi duta besar pariwisata Jepang untuk Cina dan Hong Kong.
Actually, in the last few years, gue selalu ngerasa... "Hello Kitty? HUH?" Tapi sekarang, well... She's a worldwide icon actually, and she has always said:
You can never have too many friends!
Queen Bee agrees on that! What about you? What do you think about Hello Kitty? Did you have a 'crush' on her? Ayo ngaku... ada yang koleksi atau beli barang-barang Hello Kitty nggak? :D

♥,
QB